Onyx Venus Medical PC optimized for Hospital Use
Med AMD Ryzen indlejret processor og hot-swappable batterier.
06-01-2022 13:35:00
Onyx Venus Medical PC Optimized for Hospital Use
AMD-based computer technology in mobile medical carts and workstations gives nursing staff more time for patients and prevents errors.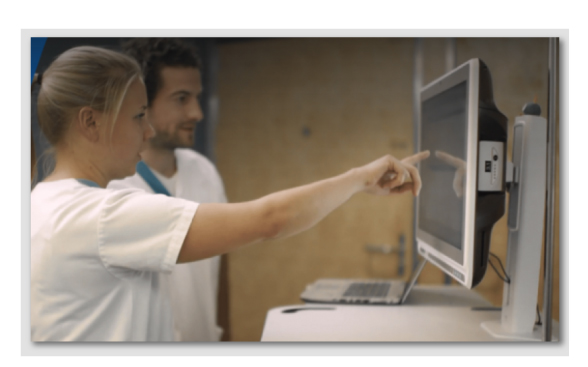 With a new building, the Solothurn Citizens Hospital (Switzerland) is currently laying an important foundation stone for the future. The hospital has already made an earlier attempt to use computerized mobile workstations and medical carts.
"Digitization only works if systems seamlessly integrate into our daily ward rounds and nursing routines," explains Mario Ulli, Head of Platforms & Access at soH. "Unfortunately, the first generation of our computerized carts turned out to be very heavy and unwieldy."
These medical carts had heavy standard components and standard PCs with lots of cables and a battery concept that provided only limited uptime. While large and heavy, the battery was often empty before the end of the shift. For recharging, the expensive carts had to stay plugged into the mains for hours, forcing nursing staff to do their rounds without the computer and then come back to enter the data.
"Such a disrupted workflow is error-prone and exactly the opposite of what we wanted to achieve. Even the smallest error is unacceptable by our hospital healthcare standards," says Mario Ulli.
The computerized hospital carts and workstations from INOVIS medical with Venus panel PCs from Onyx are fully configurable and offer a wide range of optional accessories.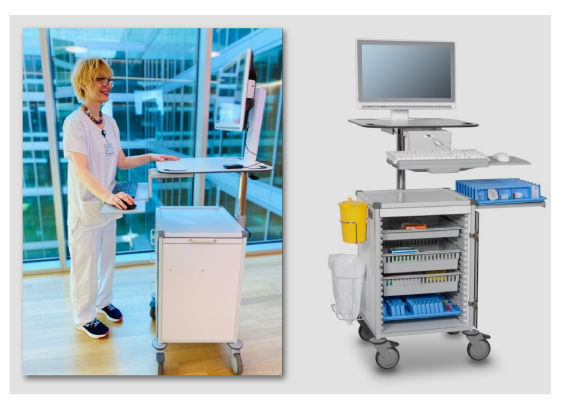 The latest generation of mobile medical carts and workstations from INOVIS medical integrates the new Venus medical PC from Onyx. The system has an independent power supply, with two lightweight rechargeable batteries that are fully integrated into the PC housing and hot swappable, which means they can be removed individually during operation. As a result, the medical carts are always available, 24 hours a day, 7 days a week, and never need to be plugged into the mains. An intelligent battery charging station with two or six slots ensures the batteries are full and ready again for use within a short time.
Manufacturer Onyx relies on state-of-the-art technology from AMD for the new Venus medical PC. Despite delivering highest performance, the AMD Ryzen Embedded processor consumes little energy and only requires minimal cooling. As the Venus PC does not need an active fan, the front of the housing is fully enclosed – so no fan openings where liquid might penetrate. This makes the medical PC easy to clean with all common disinfectants.
The mobile carts and workstations with the Venus medical PC from Onyx are specially designed for everyday hospital use, nursing tasks and staff comfort. One set of batteries lasts for nine hours, depending on use, and the carts can be fitted with holders for disinfectants or gloves, or an integrated reading light to illuminate the work surface at night. Nursing staff also commented positively on the fact that the new carts are lighter and easier to maneuver than the previous ones. They also remarked on the very good radio range, another problem with the old system.
For the in-house IT department, the installed Orion remote software, which runs on Microsoft Windows as well as Ubuntu, means that they can now centrally administer several Venus PCs and retrieve useful client system status information via an intuitive graphical user interface.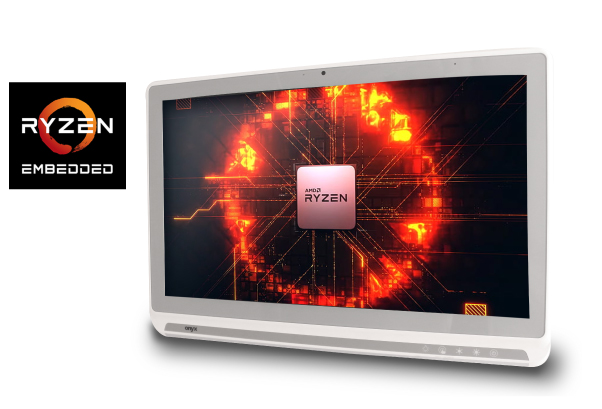 As the Venus medical PCs from Onyx with AMD Ryzen Embedded processors require no active fan cooling, the front complies with IP-65 protection standards and is easy to disinfect. The exceptional graphics performance supports large touchscreens or even multiple high-resolution screens for detailed analysis of patient data.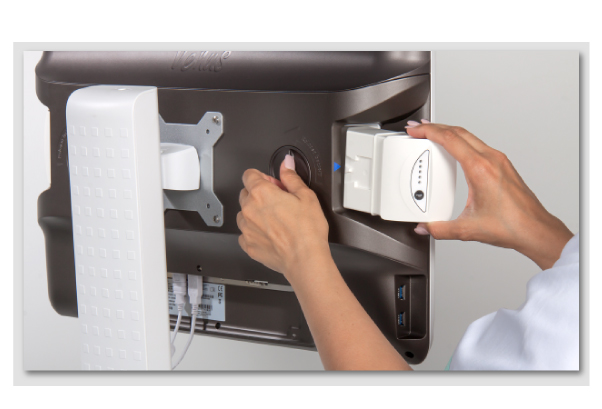 Medical carts and workstations with Onyx Venus PCs are high-tech hospital equipment, integrating a state-of-the art energy concept with hot swappable batteries.
Kontakt vores specialister hos Sensor Medical
Vil du høre mere om medical produkter fra Onyx Healthcare? Vi sidder klar til at tage imod din henvendelse.
Vi leverer skræddersyede løsninger til medicalmiljøer - alt lige fra PC'er, til stuevogne, tastaturer og meget andet.